Balance Scale
Montessori – Numbers
The wooden balance scale can be used in mathematic problems or in sensorial exploration as well. It shows the child that different objects have different weights. The child can observe how the scale moves up and down depending on the weights he places. This wooden toy can helps children solve mathematic weight related problems.
RM65.00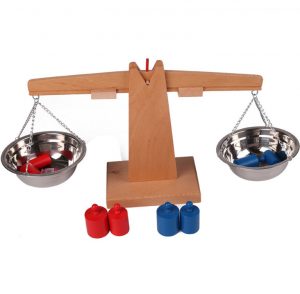 The Balance Scale is composed by 2 small metallic dishes where the knobbed cylinders can be weighted on. In addition, it also brings 8 knobbed cylinders: same height but different diameter (increases from thin to thick). They come in pairs of different colors: 4 are red and 4 are blue.
Material: Wood
Size: ±23cm x ±33cm/±9″ x 12.99″
Not suitable for children under 3 (small parts).